If you are searching for an affordable yet heavy-duty plasma cutter, then you've come to the right place.
Plasma cutters are a valuable tool to have in your arsenal, especially if you're someone who performs a lot of metal cutting work. Whether it's for use in large industrial sites or small workshops, a plasma cutter can be quite helpful as it allows you to cut metals and any thick materials accurately, quickly, and with ease.
With new technology coming up every year, the plasma cutters have also undergone several improvements and enhancements by incorporating new technologies and innovative designs. Today, the market is filled with a wide variety of plasma cutters and for any inexperienced buyer, picking the best one will be an overwhelming task.
Fortunately, we have taken the trouble of thoroughly researching and scorching through the internet to ease your buying process. In this article, we'll be providing you a detailed review of the best plasma cutter under 500 followed by a short buyer's guide.
Image
Best Overall
Best Overall
Image
Best Plasma Cutter under $500 Reviews
We truly understand the buyer's perspective and know that no rational buyer would want to invest their money on a product that might make them regret later. As it's our job to always help our readers make informed decisions, we've carefully reviewed 6 plasma cutters based on quality, durability, affordability, and best overall.
We believe that these are some of the best products worth buying, so read till the end to find out which is best suited for your needs.
1. Lotos LTP5000D – Best Overall Cheap Plasma Cutter
The LTP5000d from Lotus is an incredibly reliable and high quality plasma cutter, making it an excellent purchase for both experts and hobbyists alike. It's quite compact and lightweight, easy to operate, and will cut just about any metal with ease. However, it lacks a pilot arc so you must avoid using it on rusted or painted metals.
Thanks to its compact design, this dual-voltage unit is very portable. With highly-optimized construction that uses MOSFET transistors, the Lotos LTP5000D delivers a clean cut every time. This unit offers a high-power output that makes cutting through both thick and thin metals an easy process.
In the package, you also get an air hose connections, ground cable and clamp, air regulator, and a plasma torch. It's an ideal tool for cutting copper, aluminum, alloy steel, mild steel, and stainless steel. Additionally, it offers a cutting range of 10-50 amp and boasts a duty cycle of 60%.
Pros
Simple to use
Excellent cutting capacity
Compact & lightweight design
Cons
Just 1-year warranty
Not ideal for heavy-duty work
See This Plasma Cutter in Action!
2. Super Deal Plasma Cutter – The Runner Up
No products found.
This 240V unit is another incredible plasma cutter that delivers excellent performance in terms of speed and precision. While it may not be the same as the LTP5000D, it certainly offers a lot for its price.
Designed with cutting-edge technology, this DC inverter unit is quite popular for its steady performance and low power consumption. Plus, it is quite durable thanks to its sturdy construction. With its duty cycle of 60%, this plasma cutter operates at 220V/110V, with 60Hz.
Its pilot-arc striking set-up facilitates easy starts. Plus, it delivers a clean cut over conductive metals like brass, copper, aluminum, steel, stainless steel, and more. It can cut any material of about 0.5-inch thickness flawlessly. It comes with a digital LED screen that displays accurate DC outputs and inputs.
It also features multiple safety features, including overheat, under-voltage, and over-voltage protection. Moreover, the mask and wire included protect you from any injury during use. This unit is quite versatile and is ideal for light industrial use, site work, maintenance services, repair, automotive, and metal fabrication.
Pros
It can cut any metal of 0.5" thickness precisely
Quite portable thanks to its compact design
Cost-efficient performance
Cons
Setup takes time
Operating instructions might be a little confusing
3. PRIMEWELD Plasma Cutter – Best Budget Option
If you are looking for a multipurpose plasma cutter for an affordable price, then the PRIMEWELD Plasma Cutter might satisfy your needs. You can use it for both welding and plasma cutting projects. It's an incredibly versatile tool known widely as a cutting and welding comb. It boasts an excellent power efficiency and a flawless cutting process.
Made of top-grade steel, this unit offers incredible durability. You won't experience any issues with it even after years of extended usage. It works on 110V and 22V at 50Hz/60Hz followed by a duty cycle of 60%.
It's called a multipurpose machine because you can use it as 200A TIG welder, 20A stick welder, and a plasma cutter. Moreover, you can switch between DC stick welder and DC TIG welder quicker and with ease.
It's ideal for use on magnesium, copper alloys, cast iron, aluminum, copper, stainless steel, steel, and more. Thanks to its incredible power efficiency of 85%, this plasma cutting tool can flawlessly cut any metal of 0.5" thickness.
The package features a long air filter, ground clamp & cable, air hose connections, and couplers. Overall, this plasma cutter by PRIMEWELD is a reliable and affordable choice for every DIY enthusiast out there.
Pros
Safe & user-friendly interface
Quick & easy setup
3-year warranty
Cons
The manual isn't very clear
Max clean cut is 1/2"
4. Mophorn Plasma Cutter
Next, we have the Mophorn Plasma cutter, a highly capable tool that can cut any metal with incredible efficiency. With IGBT technology, this powerful 50A model can control the current and deliver higher stability, and precise cuts.
It boasts a normal cutting depth of 6mm and a max. cutting depth of 10mm. With the Mophorn plasma cutter, you can cut almost any material surface and won't ever face any danger while cutting finer plates. When operated on 50 amps, it delivers a duty cycle of 60% and 100% in 30 amps.
Another great aspect of this unit is its cooling system that can keep the machine cool for an extended period. This also prolongs its lifespan. Thanks to its handle and clever torch design, it offers a comfortable grip, allowing you to carry the machine with ease.
This dual-voltage tool can operate at both 220V and 110 V, with 60Hz. It can also have multiple applications as you can use it for repair, maintenance, ducting work, and automotive work. It also comes with a complete accessory kit, which includes two plasma tips, pressure reducing valve, ground clamp, cutting torch, and so on.
Pros
Efficient cooling system
Easy to operate
Satisfactory cutting performance
Cons
Adapter plug not included
Not the best quality
5. ZS-MICTEK Plasma Cutter
This plasma cutter by ZS-MICTEK is another excellent choice. While it may fall on the cheaper range, it still packs some incredibly useful features. With this unit, you can cut over both rough & rusty surfaces with ease.
Its inverter technology switch delivers more efficient performance and its compact design makes it a portable unit. With 45amps, this 220V DC input plasma cutter delivers high power and can easily cut through 12mm thick materials. You can use it for cutting almost any type of metal, be it cast iron, copper, mild steel, alloy steel, or stainless steel.
It also features multiple safety features, which include built-in over-voltage protection, over-heat protection, and under-heat protection. All these safety features help prevent injuries while using. The package also includes an electrode holder, cutting torch, earth clamp, hose, and air pressure valve.
Pros
Multiple safety features
Quite affordable
Compact & lightweight, making it portable
Cons
Not the best choice for heavy-duty work
Just 1-year warranty
6. AMICO Plasma Cutter
The unit by AMICO is another reliable and affordable plasma cutter that boasts efficient performance and innovative inverter technology. This model is an excellent buy for general shaping and cutting projects.
Build with durable metal, this digitally-powered 50A plasma cutter works at AC 230V & 110V, 50Hz, and 60Hz. With its auto-voltage system, it can adjust the input power between 100-240V automatically.
With the ability to easily handle thin cuts up to 1", this powerful plasma cutting tool is designed for heavy-duty construction and industrial use, or hobby and home use. With this unit, you can easily cut copper aluminum, alloy steel, mild steel, and more. With qualities such as less maintenance, reduced fire hazard, and noxious gases, this incredible unit delivers a clean cut at all times.
It's also quite comfortable to hold thanks to its torch design, which is also resistant to impact and heat. Another distinct feature of the AMICO plasma cutter is its in-built air dryer.
Pros
Worth the price
No fire hazard
High-performance output & clean cuts
Cons
Need to purchase consumables nozzles and tips separately
Breaker keeps tripping
Best Cheap Plasma Cutter Buying Guide
As there are a variety of plasma cutters available today, it can be quite confusing for you to pick one that's best suited for your needs. That said, there are a few features that you need to consider before going forward with the purchase. Keeping these factors in mind will help you in finding the right tool for your needs.
Here's a quick buyer's guide showing you what you should pay attention to before buying a plasma cutter:
Power Source
This is a key factor to consider before you purchase a plasma cutter. These tools can use either electricity or air pressure to cut through metal. While both are equally powerful and feasible for most usage, knowing the power source for the tool is important. If the place you work at has limited electrical outlets, then air pressure models work best.
Regardless of which cutter you go for, it's also important to know what gas type it needs to run. Also, make sure if the place you work at has 110V/220v power outlets. Moreover, you'll need to see if the breakers at your workshop have adequate amps to resist the unit's amperage and also the air compressor.
Duty Cycle
This is another important feature to consider before making your purchase. Simply put, the duty cycle indicates how long the tool can perform under certain loads. Usually, it depends on the welder's amperage and it comes in a percentage format, which can be found printed on the box.
To purchase plasma cutters with high-performance, you must check the average thickness it can cut through. If you go for one with a low duty cycle, it'll only run for a limited period. For heavy-duty work, you're going to need a tool with a higher duty cycle. You'll be better off with plasma cutters that offer 50-60% duty cycle.
Consumables
Consumables refer to the parts of the unit that will deteriorate with time. Generally, plasma cutters use 5 different consumables, namely-nozzle, swirl ring, shield, electrode, and retaining cap. The shield safeguards the other consumables from sparks and molten metals. A drag shield will be better if you aren't familiar with such machines. The retaining cap helps in keeping the consumable stack together. The nozzle's key role is to focus on the plasma arc.
Similarly, the other consumables have their own functions. The point here is to pick a tool that is compatible with affordable and readily-available consumables.
Plasma Cutter FAQs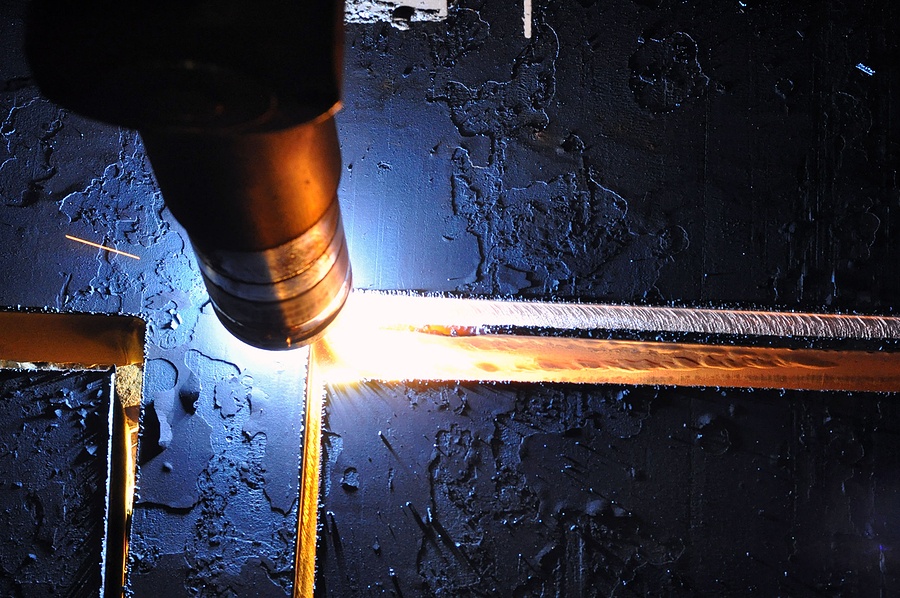 In this section, we'll be answering some of the most commonly asked questions that people have about plasma cutters.
How Hot is a Plasma Cutter?
Plasma cutters can get heated up pretty intensely up to 45,000°F, which is 25,000°C. This is why you're advised to not look straight into the flame or it may damage your sight permanently.
Can You Cut Aluminum with a Plasma Cutter?
Yes, Plasma cutters can cut aluminum. In fact, you can use it for cutting any conductive metal such as stainless, mild steel, etc. This is because the tool doesn't depend on oxidation to perform. However, cutting aluminum does pose some unique challenges, particularly concerning chemistry and crack sensitivity. Consequently, you're required to follow a proper gas selection and cutting technique.
Do Plasma Cutters Use Gas?
Yes, plasma cutters make use of electrically conductive gas for transferring energy to any conductive material from the power supply, which results in a quicker, cleaner cutting process.
Find the Best Plasma Cutter for the Money That's Right for You
With several choices at your disposal, it can be quite confusing to make a well-informed informed decision without a proper guide. We believe that this guide has been helpful for you in learning more about plasma cutters.
In our 6 reviews of the best plasma cutter under 500 dollars, we found that they're all incredible machines. Out top pick, however, was the Lotus LTP5000D as it offers an excellent cut over a wide variety of plate thickness, irrespective of the material quality, it offers precise cuts.
The SuperDeal Plasma Cutter is another great alternative to the Lotus LTP5000D, making it our 2nd favorite pick. For those looking for an affordable yet high-performance plasma cutter, we recommend the PRIMEWELD Plasma Cutter. While it might be slightly less in quality, it does a pretty decent job of cutting metals.
Jake is a tool guy – think Tim Allen from Home Improvement but with a much drier sense of humor. He lives in the great state of Ohio and plays the guitar on his downtime. He also spends his time writing on all things tools and DIY-related as this is his passion.