If you're needing to cut through thicker materials that are electrically conductive like steel, copper, aluminum, etc., then a plasma cutter is just what the doctor ordered. These powerful tools use a stream of hot plasma to cut through these materials with relative ease.
The unfortunate reality, though, is most plasma cutters out there that are actually worth your hard-earned dime are usually very expensive. The ones that are on the cheap side may still be good options, but they usually won't last as long as a more expensive option. Thankfully, we've found some great options that are less than $1000 for the folks that don't mind spending a bit extra without sacrificing quality.
Image
Best Overall
Runner Up
Best Budget
Best Overall
Image
Runner Up
Image
Best Budget
Image
Image
Best Plasma Cutter under $1000 Reviews
Here's our list of the best affordable plasma cutters that won't cost you more than a grand:
1. Everlast PowerPlasma 52i – Best Overall Plasma Cutter
A great choice for people looking for a compact but powerful cutter, the Everlast PowerPlasma 52i is a must-have for any professional or DIY handyman. This particular model is an upgrade from their previously successful model the 50S that now features a complete digital redesign both on the outside and on the inside. Thanks to this digital upgrade, it is now more efficient, reliable, and greatly reduced circuit complexity.
Another cool feature they've included in this upgraded model is a digital display of real-time air pressure along with an LED system that shows you exactly which air pressure is needed for the task at hand. They also have an adjustable post-flow timer that can be utilized to extend the torch life of the cutter. All in all, there are so many great features in this upgraded model that we would be remiss if we didn't place this cutter as our #1 recommendation. Its great price and awesome features make it a no-brainer.
Pros
Complete digital redesign from older model
Post-flow timer
Contains gouge function allowing 50 amps of cutting power
Cons
More expensive than other models on this list (but still under $1000!)
2. Forney 317 250 P+ – The Runner Up
Designed to cut metals such as steel, aluminum, and most other conductive metals, this plasma cutter has plenty of power and features in a small package. It utilizes drag torch technology so you can get even more precise cuts by dragging the torch directly over the metal that you want to slice into. This also makes it much easier to use and provides you with a very simple learning curve to master. That means you can easily get to your first cuts and make sure that they're high quality at the same time.
The system comes with a built-in air compressor as well as an inverter power supply, which means you're going to have everything that you need to get started right away. Not to mention it has thermal overload protection, which means that it's able to shut itself down if the temperature gets too warm. Add in the fact that it's only 40 pounds, and you'll be able to take it with you wherever you need to go to get the job done. It's also 120 volts and 15 amps, which gives you the power that you're looking for with most projects.
This plasma-cutting tool offers a 7-foot electrical cord so you can get plenty of distance and never run out of power. You'll also get a warranty that guarantees there won't be any manufacturer defects to the tool itself. Just make sure you have the right dimensions for the project you're working on as this is designed to do best with ¼ inch or thinner materials
Pros
Easy to use
Drag torch tech allowing very precise cuts
Built-in air compressor
Cons
Struggles to cut anything over a quarter inch
Complaints of there being a bit of a delay before beginning your cut
3. Lotos LTP5000D – Best Budget Plasma Cutter
This pilot arc plasma cutter is able to get through just about any type of metal that you want without having to actually connect with the metal itself. This means you'll get better quality of cuts as well as keeping your tip working even longer as it's not actually in contact with anything. This means that it's great for things like rough metals, painted and rusty surfaces, and more, without the slag. Plus it's going to be easy to handle and safe to use since you're not in contact with anything directly.
You'll use compressed air to get through the different types of metal and you'll get a good cut up to ¾". What's even better is that the setup process is designed to be quick and easy, where all you need to do is connect to an air compressor and you're ready to go. It already has a standard plug and air filter regulator. So, use a stand coupler to connect and then start cutting materials like stainless steel, copper, aluminum, mild steel, and more. With the dual voltage system, you can start cutting through just about anything for your next project.
There's a 30-day refund and a one-year warranty in case of any problems with the system and at less than 20 pounds you'll have no problem carrying this along with you wherever you need to get the job done. It also has plenty of power and a quality cooling system built in so you don't have to worry about overheating
Pros
Has pilot arc
Quick and easy setup
Contains an advanced cooling system
Cons
Bad customer service
Complaints of unit not lasting long
4. Lotos LTP8000
If you want something with a good amount of power that is going to work on just about any surface then this is where you want to be. It's able to cut through even rusty, dirty, rough, and painted surfaces because the entire system is non-touch. That means the tip never directly touches the material and you'll be able to get through more difficult surfaces without causing any damage to your tip or your plasma cutter.
The pilot arc provides minimal slag and offers dual frequency and dual voltage output. You'll get the power supply, the torch, ground clamp, and the plug and air filter regulator included. All you need to do is hook up this unit to your current air compressor and you'll be ready to go in no time. Not only that but it's simple to use and makes sure that you can get started whenever you're ready. Also, because it's portable you can take it anywhere that you need to go and cut through everything from stainless steel to aluminum.
The cutter itself is approximately 38 pounds, which makes it simple enough to transport as needed. It's also able to cut up to 1" and sever up to 1 ½", which makes it a good amount more powerful than many of the other systems that are currently available. That's important for those who have bigger jobs to take care of.
Pros
Non-touch pilot arc
Comes with 80A power supply
Simple to setup
Cons
Does not come with a built-in air compressor
Bad customer service
5. YESWELDER CUT-65DS
Use this dual voltage cutter to get cuts up to nearly 1" in total depth. Also, because it's non-touch you don't have to worry about the tip of the cutter coming into contact with anything, which allows it to cut through less desirable materials including painted and rusty metals. Not only that but this tool offers high power IGBT to invert DC voltage to give you even higher AC voltage. All of this means that it uses a great deal less energy than you get with most similar systems but is still simple to use.
The unit itself provides minimal electromagnetic interference because it has a lower frequency and lower voltage discharge. It also has a stable arc, wider applications, and minimal slag, no matter what you're cutting through. You'll also have minimal noise pollution and more safety features because you get additional protection against overcurrent. Not only that but there's automatic protection against over and under voltage as well. All of this keeps whoever is using the unit safe as well as keeping the cutter itself safe so that it lasts a lot longer.
At just over 20 pounds this is definitely a unit that you can take with you wherever you go and will allow you to cut through just about anything that you need. You will need an air compressor to connect to, but you'll have everything else you need in order to get started
Pros
Dual voltage that adapts to 110/220V ac-dc
Reduced energy consumption
Protection against overcurrents
Cons
No built-in air compressor
Best mostly for thinner materials
Plasma Cutter Buying Guide
Now that we've investigated our top picks for the best affordable plasma cutter, let's take a look at some important factors you should take into account before buying a plasma cutter under $1000.
Air Compressor
When using a plasma cutter, you will need an air compressor in order to actually create the plasma necessary for cutting. Some models actually come with a built-in air compressor, but they tend to be more expensive. However, there are still options out there that have a built-in air compressor but are still under a grand. If you have your own air compressor, then you obviously won't need to worry about this.
Cut Rating
Without a doubt, one of the most important factors to consider is how thick of material the plasma cutter can actually cut. This can be understood by knowing its cut rating. If you're unsure how thick you need the plasma cutter to cut, it's usually best to go with the thicker option so you won't be left with a cutter that can't do what you need it to do! There are typically three different ratings to keep in mind:
Sever Cut: The plasma cutter's maximum cut that it can attain. Typically, this cut will be very slow and messy.
Rated Cut: The thickness that the cutter can cut at a rate of 10 inches per minute.
Quality Cut: The thickness at a lower speed for thicker material.
Pilot Arc
Finally, an incredibly important factor to pay attention to is the pilot arc, which is vital because it allows you to cut your material without having to actually have the tip of the torch touch the material thus giving it a longer lifespan. This will obviously come in handy if you don't wish to clean the metal you're cutting.
Plasma Cutter FAQs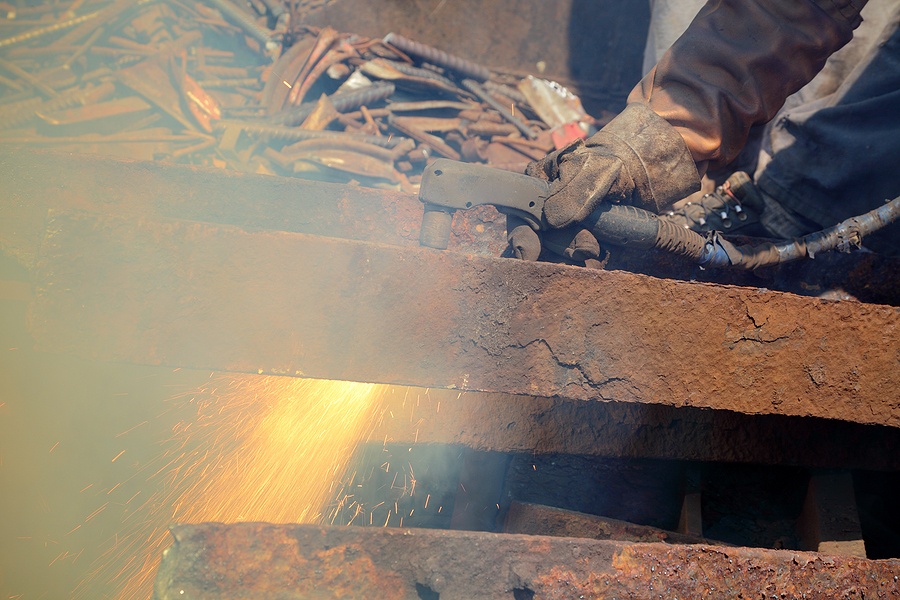 Here are some common questions about plasma cutters that we hear often:
How Much Air Pressure Does a Plasma Cutter Need?
This can really depend on what you're wanting to cut with your plasma cutter, but typically you'll need 4-8 SCFM (standard cubic feet per minute) delivered at around 90-120 PSI (pounds per square inch). However, the thicker the metal the more power you'll need. Here's a quick look at metal thickness and the recommended air pressure:
3/8″ metal thickness: 4-8 SCFM, 90-120 PSI
5/8″-3/4″ metal thickness: 6 SCFM, 90-120 PSI
3/4″-1″ metal thickness: 7-8 SCFM, 90-120 PSI
Can You Cut Cast Iron with a Plasma Cutter?
Simply put, yes you can cut cast iron with your cutting torch. Is it the best method for cutting cast iron? Probably not. We recommend using a diamond blade tool or snap cutter tool instead as you'll get a little more precision with these tools.
Can Plasma Cutters Cut Wood?
No, plasma cutters can't cut materials like wood or plastic due to them not be conductive materials. Plasma cutters are meant for use on conductive materials like steel, copper, aluminum, etc.
Find the Best Affordable Plasma Cutter That's Right for You
Plasma cutters are invaluable tools for any professional or DIY handyman that needs to efficiently cut conductive materials like steel and aluminum. Keeping in mind all of the buyer's guide factors such as the tool's cut rating, its pilot arc, and whether or not it comes with a built-in air compressor will help you determine the right tool for you.
While these tools can be quite expensive to purchase, hopefully, our list of the top plasma cutters under $1000 has been an invaluable asset to you on your buying journey. Be sure to let us know if there are specific plasma cutters that you like using that are under that dreaded $1000 mark in the comments below. Also, be sure to check out our other lists of top plasma cutters including our list of cutters under $500.
Jake is a tool guy – think Tim Allen from Home Improvement but with a much drier sense of humor. He lives in the great state of Ohio and plays the guitar on his downtime. He also spends his time writing on all things tools and DIY-related as this is his passion.